Tradovate is a modern, cloud-based futures trading platform offering unlimited, commission-free trading for a flat price. No per-trade commissions, platform licensing fees, or order routing fees.
Tradovate has combined its brokerage & proprietary trading technology into a single service and offer it on an all-you-can-consume subscription basis (think Netflix or Amazon Prime). Our customers become members by opening a trading account, choosing one of our three membership plans, and enjoying exclusive access to Tradovate's unlimited commission-free, cloud-based futures trading.
Here is Why: Tradovate was born out of the recognition that futures traders were long overdue for a new and innovative futures trading experience. Tradovate brings a new perspective to an old industry, combining brokerage and technology uniquely to deliver exclusive savings and a powerful trading experience.
Pricing
Unlimited Futures Trading for a Flat Price – Instead of charging a commission for every contract you trade, Tradovate charges a flat price, starting at $39 per month. You can trade as much or as little as you want and will not pay a commission. When you do trade, you simply pay the exchange & NFA fees you pay at every broker and a small $0.09 per contract clearing fee.
With Tradovate's unique pricing, the more you trade, the more you save.
Choose from multiple options, starting at $39 per month today!
Jigsaw & Tradovate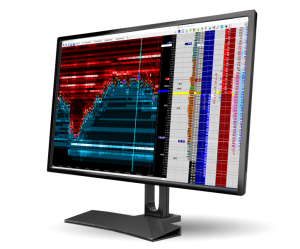 Get started with Jigsaw's order flow software tools quickly using Tradovate's Jigsaw plug-in. Once installed you can have Jigsaw's tools set-up in moments so you can  view momentum, order flow and more, taking trading action quickly in Tradovate.
Try a Free 14-day trial of Tradovate to use with Jigsaw today >>
Platform
Trade anytime, on-the-go, on any device.
Enjoy convenient trading across devices, from desktop to mobile to tablet. Download for Windows or Mac, log in with Google Chrome and other web browsers, or download from the app stores for iPad, iPhone, and Android. Orders held securely at the exchange or server-side, never on your device.
Trade how you want from where you want; it's all included with Tradovate: DOM, Quotes & Charts, Tools & Research, Market Data and much more.