Tradovate is a modern, cloud-based futures trading platform offering unlimited, commission-free trading for a flat price. No per-trade commissions, platform licensing fees, or order routing fees.
Trade On Demand
Trade anytime, on-the-go, on any device
Enjoy convenient trading across devices, from desktop to mobile to tablet. Download for Windows or Mac, log in with Google Chrome and other web browsers, or download from the app stores for iPad, iPhone, and Android. Orders held securely at the exchange or server-side, never on your device. Trade how you want from where you want; it's all included with Tradovate.
Pricing
Unlimited Futures Trading for a Flat Price – Instead of charging a commission for every contract you trade, Tradovate charges a flat price, starting at $39 per month. You can trade as much or as little as you want and will not pay a commission. When you do trade, you simply pay the exchange & NFA fees you pay at every broker and a small $0.09 per contract clearing fee.
With Tradovate's unique pricing, the more you trade, the more you save.
Choose from multiple options, starting at $39 per month today!
Jigsaw & Tradovate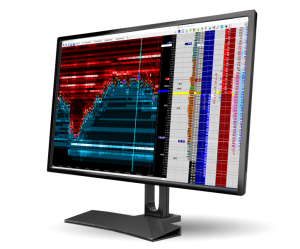 Get started with Jigsaw's order flow software tools quickly using Tradovate's Jigsaw plug-in. Once installed you can have Jigsaw's tools set-up in moments so you can  view momentum, order flow and more, taking trading action quickly in Tradovate.
Try a Free 14-day trial of Tradovate to use with Jigsaw today >>
Quotes & Charts
Tradovate's modern-design quotes and charts allow traders to see clearly what is happening in the market, rapidly analyze the data, and act swiftly. Traders can easily create charts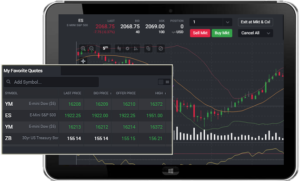 that can be
accessed from any device and customized to preference through a host of styles, including customizable alerts. Utilize a broad set of technical indicators and studies, and enjoy the flexibility of directly executing trades from charts which clearly organize reliable and targeted information.
Tools & Research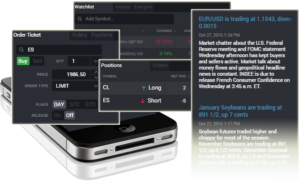 Active traders can easily discover opportunities, analyze markets, and positions, freely test strategies, and manage trades with Tradovate's suite of tools.
Market Data
With reliable global market connectivity and fast, accurate price information, traders can readily depend on Tradovate's real-time data for a precise assessment of current markets. CME market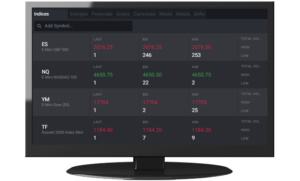 data is included at no extra cost for non-professionals.