Jigsaw daytradr – a unique and innovative collection of trading tools, each targeting a specific aspect of trader performance.
Built around proprietary trading techniques that professional traders use every day, our tools are lightning fast and supremely effective. A platform built around gaining a true edge in the markets, trading data is presented exactly as you need it with none of the gimmicks that exist in our competitors platforms that are there to impress naïve traders and end up causing their losses. Able to accurately highlight events such as where other traders are stuck, yet with very few settings to set in the software. After all, if software is smart enough to help improve your edge in the market, it should NOT make you responsible for tuning 100's of settings. Our tools work out of the box, on your markets with no headachaches.
There are 2 different versions of the tools.
daytradr Trading Platform™
Designed specifically for day traders of futures and exchange traded spreads, the daytradr platform is a robust stand-alone multi-threaded trading platform that connects to CQG, Rithmic, GAIN Futures (OEC) and IQFeed. daytradr contains all the features from the popular plug-in from Jigsaw (used by over 4,500 traders) and much more, to deliver a truly flawless trading experience.
Note that the GAIN Feed is also known by the following names: Alpha Trader, Apex Trader, ATC Trader, CTG Pro, DT Pro, G-Force Trader, Global Zen Trader, High Ground Trader, Index Trade Launcher, S5 Trader & Zaner 360.
Our award winning tools integrated to your existing trading platform. Platforms supported are MultiCharts.NET, MultiCharts.NET SE, NinjaTrader 7/8 and Tradovate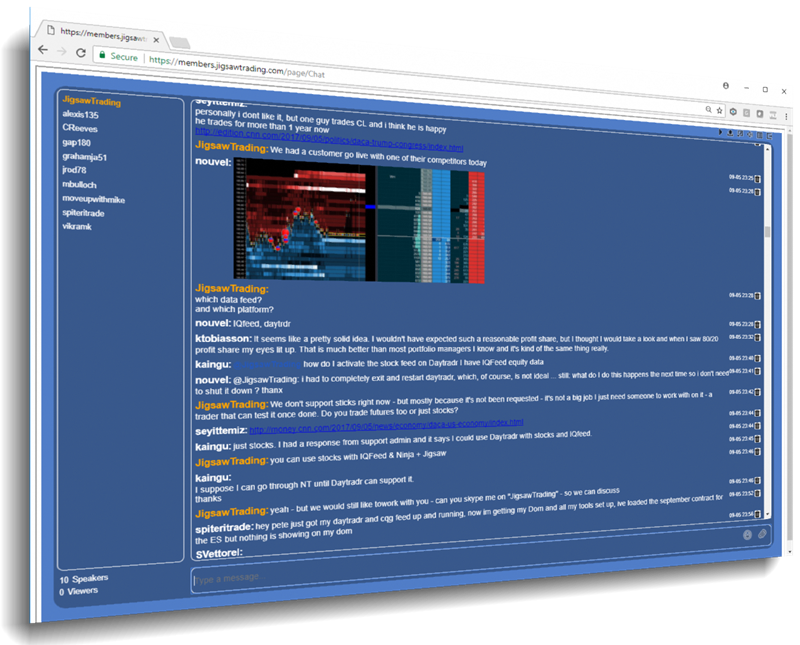 It cannot be overstated how important it is to be around other traders. This is a huge edge for a trainee in a prop firm. The Jigsaw chat room replicates the camaraderie and information edge that benefits prop traders immersed in a trading environment. It's an open, unmoderated meeting place for like-minded traders. Traders discuss trades and market activity and there's also some social discussion. Members can chat publicly or privately using text, audio or video.
Trade Statistics & Leaderboard
In the heat of the moment, it's not always clear which trades are working out best. Being able to analyze where your performance excelled and where it was lacking is key in progressively improving.
Analyze your trading performance with the web based performance dashboard. Perform "what if" analysis on your trade history to see how changes would have impacted the results. Share your real time trading history with other traders, your manager or those whose funds you are managing.
Opt in to the free leaderboard and see how you compare with other traders using the tools. Traders are ranked using our proprietary consistency rating algorithm, which is based on "go-live" requirements from a futures prop firm. Designed to help traders with discipline issues, the leaderboard gives insight into how you are improving over time from a longevity perspective. Starting in October, we'll also be giving monthly prizes to the top traders on the leaderboard.
Discipline & Consistency Tools
Three levels of educational material have been introduced with the release of daytradr. Traders can choose the package that best fits their level of experience/performance.
Free Basic training – 10 hours of material covering order flow theory and practice plus trading drills.
Advanced – An additional 9 hours of material covering specialized topics such as trade management, scalping, intra-day volume profile analysis.
Institutional – in partnership with our proprietary trading firm partner, an 8 week comprehensive home study on trading the price ladder.